Hemp oil and its beautifying and conditioning properties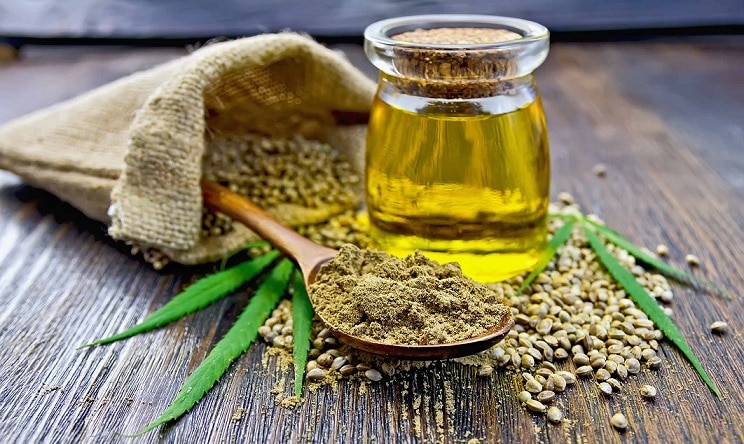 Hemp oil, which can be used in home skin and hair care, becomes another beauty hit. Contrary to appearances, it does not come from cannabis, which has narcotic properties, but from their native variety – Cannabis sativa. The most valuable hemp oil is cold-pressed, unrefined and with a yellow-green colour. If you see the name Cannabis sativa (Hemp) Seed Oil on the label, it means that you found hemp oil. What care properties does hemp oil have and what is its composition?
Hemp oil – composition
The composition of the oil determines the care properties of hemp oil. Hemp oil is almost 80 percent composed of unsaturated fatty acids, especially linoleic acid from the group of omega-6 fatty acids and linolenic acid from the omega-3 group. What is more, both acids have ideal proportions.
The remaining 20 percent are:
acids: oleic, palmitic and gamma-linolenic,
proteins, amino acids, carotene, minerals, vitamins (A, D, E and K), phytosterols and phospholipids,
biologically active substances with anti-inflammatory, regenerating, antiseptic, antioxidant and sunscreen properties, for example, tocopherol, cannabidiol and terpineol.
Hemp oil – beautifying and conditioning properties 
Hemp oil absorbs quickly and does not leave an oily layer on the skin. It is to be used directly to the skin and as a component of cosmetics, especially emollients intended for problematic skin types and for the care of infants and young children. It is often added to body lotions, soaps, face creams and sunscreens. Hemp oil will work well for the care of all skin types: dry (moisturizes), oily (regulates the secretion of sebum and the work of sebaceous glands), sensitive (hydrates and replenishes missing lipids) and mature (prevents the formation of wrinkles). In addition, hemp oil soothes inflammation, skin diseases and reduces the risk of irritation and discolouration. The oil protects the skin against UV rays thanks to the sunscreen content. Hemp oil also has a good effect on the hair and scalp: if applied to the hair, it improves shine and facilitates combing, and when used on the scalp, it stimulates hair growth.