NANOIL – Argan Oil for Beauty Purposes. Discover Its Amazing Properties Now
The world's most popular oil? Naturally, it's argan oil. It is a terrific beauty oil and definitely stands out in the crowd thanks to the best nourishing and repairing properties. Check out the top-grade product – see the performance of Nanoil Argan Oil and enhance your good looks like a pro!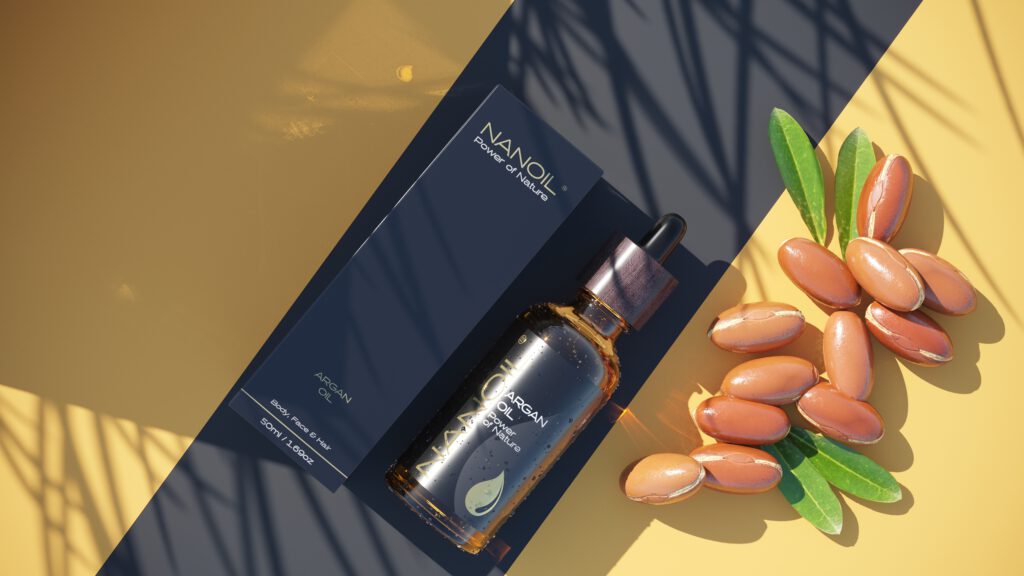 Where does the most valuable argan oil come from?
Argan oil isn't found any place in the world. Morocco is its motherland where it's treated like national treasure. And it actually is a real treasure trove because argan oil exports account for a big part of the country's national income. No wonder it's called gold of Morocco. The Argan tree forests are declared as a Biosphere Reserve by UNESCO. Therefore, this is the place where pure, certified and best-quality argan oil is made. It holds all precious ingredients. NANOIL offers unrefined, cold-pressed oil whose every drop holds what's most beneficial for our good looks.
What are the properties of Nanoil's argan oil?
Argan oil is a brilliant beauty product whose effectiveness is confirmed by many tests. It is one of the most thoroughly tested oils: the research was ordered and funded by the king of Morocco! Argan oil is a potent antioxidant which prevents free radical damage, leaves the face smoother, speeds up skin renewal, plus protects from external aggressors. It is good for all skin types, even extremely sensitive or aging skin with wrinkles and sagging. It helps battle face lines but also cellulite or stretch marks.

Face, body and hair care: what to use Nanoil Argan Oil for?
Argan oil for hair
Nanoil argan oil is a perfect enhancer for any hair, from dry and damaged to fine and fragile to stiff and hard to style. Use it on hair and scalp as an intensive mask, rinse it out after 20 minutes and enjoy your new voluminous, shiny, soft tresses.
Argan oil for face skin
Did you know that argan oil is very light and skin-friendly? Apply Nanoil on the face as a night serum or add a few drops to your day cream for boosted performance. It will upgrade the effects of antiaging products, prevent skin damage or dryness, and help get rid of imperfections.
Argan oil for under-eye skin
Nanoil Argan Oil also acts as a terrific eye cream which nurtures the fragile skin under the eyes and delays eye wrinkles. It leaves the skin more resilient.
Argan oil for body
Nanoil argan oil is a fantastic body care oil that you can use straight on the skin after a bath, for an anti-cellulite massage or on coarse elbows and knees. It also helps moisturize very dry skin and repair nails which have been damaged from gel.
NANOIL Argan Oil is a multifunctional beauty product that will let you look your best – from head to toe! Read more about its benefits at www.nanoil.co.uk and order the top-quality oil with quick home delivery!