Honey in cosmetics – properties and application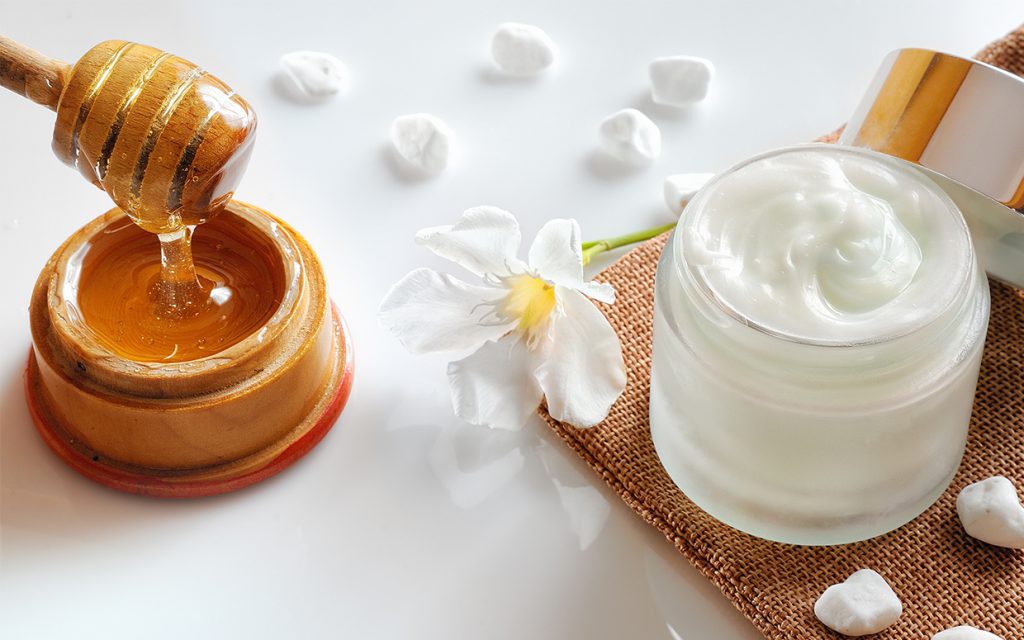 Natural ingredients are becoming more and more popular in cosmetics. One of them is honey. Not only is it sweet but also has amazing healing and caring properties. Check how to include honey in your skin and hair treatments.
Honey – properties
Honey is widely used, there are many legends about its properties. This tasty product:
accelerates wound healing and acne lesions;
has bactericidal effect;
soothes irritated skin;
boosts the immune system and treats insomnia.
Honey is special in the fact that it can be used for all skin types. In cosmetics also other bee products are used, such as beeswax, pollen, propolis, and propolis tincture. It should be noted, however, that honey can sensitize people with a very sensitive or allergic skin.
Honey – recipes for natural skin and hair care
1. Hair conditioner with honey
To prepare a hair conditioner with honey, you will need: half a cup of honey, ¼ cup of olive oil and half a glass of lemon juice. Mix all ingredients thoroughly, then apply to your hair. Rinse with lukewarm water after about 30 minutes.
2. Lip balm with honey
Prepare the following ingredients: teaspoon of honey, half a cup of beeswax, two drops of vitamin E, ¼ cup of coconut oil and 10 drops of lemon juice. Mix the ingredients until smooth and then transfer to small containers. Store the balm in a cool place and use whenever you need it.
3. Facial mask with honey
You will only need two ingredients: 2 large tablespoons of honey and half a glass of milk. Mix the ingredients and apply to your face. After 15 minutes wash your face with lukewarm water.
4. Anti-cellulite body scrub with honey
You'll need half a glass of honey and a glass of coffee grounds. Brew coffee and then strain the coffee grounds. Add honey to the warm grounds and mix until smooth. Use the scrub on the chosen body parts, then rinse and apply a moisturising product.